Can you volunteer a couple hours of your time to help the Piedmont Maker Faire run smoothly this year?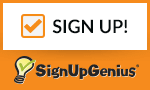 The Maker Faire is a great community initiative for kids and parents to share their contraptions, creations, art, and interactive activities. Kids love all of the hands on Maker-y things and adults get inspired to create!
No prior knowledge or training is required for our volunteers, just turn up to the registration desk and we'll get you oriented.